Peak District for Family Adventures: Top 5 Walks with Children
Welcome to Muse Escapes, where we believe that a getaway should be more than just a change of scenery; it should be a memory-making experience for the whole family. The Peak District, with its stunning landscapes and charming villages, offers an incredible backdrop for unforgettable family adventures. To help you make the most of your visit, we've curated a list of the top 5 family-friendly walks in the Peak District. Pair these walks with our extraordinary accommodations, and you're in for a vacation your family will cherish forever.
1. Dovedale Valley: A Riverside Stroll
Start your Peak District family adventure with a gentle stroll along the Dovedale Valley. This scenic walk follows the River Dove and offers breathtaking views of limestone cliffs, ancient woodlands, and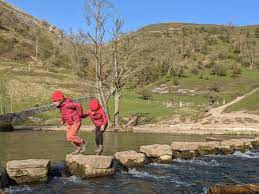 the famous stepping stones. It's an ideal choice for families with young children, and the route is accessible year-round. Afterward, return to your Muse Escapes accommodation to relax and share stories of your day.
2. Monsal Trail: Tunnels and Viaducts
The Monsal Trail, with its easy terrain, is perfect for families with children of all ages. This former railway line takes you through several old tunnels and across impressive viaducts, providing an engaging history lesson alongside your walk. You'll encounter stunning views of the Wye Valley and the River Wye along the way. Back at your Muse Escapes property, unwind in comfort and plan your next adventure.
3. Tissington Trail: A Journey Through Time
For a walk rich in history and natural beauty, explore the Tissington Trail. This family-friendly path takes you through picturesque villages and offers opportunities for picnicking and wildlife spotting. The trail is flat, making it an excellent choice for strollers and young adventurers. Return to your Muse Escapes accommodation, where you can relish in the day's discoveries.
4. Curbar Edge: A Rocky Adventure
If you have older children who crave adventure, Curbar Edge is the place to be. This hike takes you along the gritstone edges, offering dramatic views and opportunities for rock scrambling. It's a great way to introduce your family to the rugged beauty of the Peak District. After your exhilarating day, Muse Escapes' comfortable retreats await your return.
5. Ladybower Reservoir: Waterside Wonder
For a delightful waterside walk suitable for families, head to Ladybower Reservoir. This circular route is approximately five miles long and provides scenic views of the reservoir and the surrounding hills. Keep an eye out for wildlife and enjoy a serene picnic by the water's edge. Your Muse Escapes accommodation will be your cozy haven at the end of the day.
At Muse Escapes, we understand that a memorable family vacation involves not only the places you visit but also where you rest your head. Our properties in the Peak District are carefully chosen to enhance your experience, providing comfort and convenience for families of all sizes.
The Peak District's natural beauty and family-friendly walks are waiting to be explored, and Muse Escapes is here to ensure your stay is extraordinary. So pack your bags, lace up your walking shoes, and get ready for an unforgettable family adventure in the heart of the Peak District.